Een nieuwe beta met een aantal verbeterde fouten en de foto markering is nu compleet.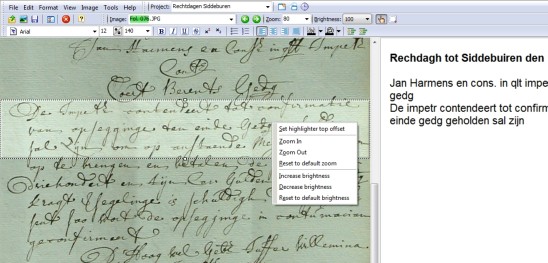 Transcript kan nu ook gevolgd worden op
Facebook
, dit maakt het eenvoudiger om op de hoogte te blijven van wijzigingen.
NB: de beta versies van Transcript bevatten alleen het programma zelf en niet de help en taal bestanden. Dit betekent dat de stabiele versie niet verwijderd moet worden voordat de beta wordt gebruikt maar dat de beta over de volledige versie heen gekopieerd moet worden.
Wanneer Transcript nog niet geinstalleerd is op uw systeem installeer dan eerst de laatste stabiele versie van Transcript en kopieer dan de beta er over heen.
Ik kan alleen fouten verhelpen wanneer die fout bij mij bekend is daarom is het belangrijk dat u fouten en crashes bij mij meldt (per e-mail of door te posten op dit forum).
Wijzigingen in build 86
Released 2012-03-13.
Quick Bugfix to remove warning that Transcript can't find the language file when you are using the default (English) language.
Wijzigingen in build 85
Released 2012-03-12.
Wegens tijdgebrek worden ze hieronder niet vertaald uit het Engels.
Bugfix: turning highlighter on/off didn't update until you restarted Transcript.
Bugfix: clicking and dragging the layer when it was not selected didn't work until you released the left mouse button first.
Bugfix: image highlighter moving/position should now always be correct.
Bugfix: bug introduced in previous beta not always going to the right position after loading a picture.
Fixed wrong links in About box.
Checks if language file exists, if not gives a warning.
New features: highlighter zoom and brightness setting added (Ctrl+Scrollwheel zooms in/out, Ctrl+Shift+Scrollwheel in/decreases brightness)
Highlighter menu added and update translations; it also adds option to set the current highlighter position as the default position when loading a new image.
Set image highlighter and side by side Windows to Pro users only.
Download beta:
http://www.jacobboerema.nl/Downloads/TranscriptBeta.zip