And a new beta version already with mostly bug fixes and I think one interesting new feature which is not finished yet.
I have a little time to do some bug fixes and
small (!)
improvements so please tell me if you know any bugs or anything else that could be improved. After that I plan to release a new stable release 2.4.
Transcript can now also be followed on
Facebook
, making it easier to stay up to date. Please like and spread the word if you want

The new feature is a highlighter for the Image window. Currently this is usable by everyone using this program but
when completed will be only available to registered users
so take your chances now if you want to try it out!
The highlighter can be turned on and off from the View menu and can be moved up and down the image and the height can be resized.
Still to be done
: saving and restoring the highlighter settings, and ability to change the brightness (currently 110) and zoom (currently set to 100) for the highlighter. Anything else you think could be useful? Let me know!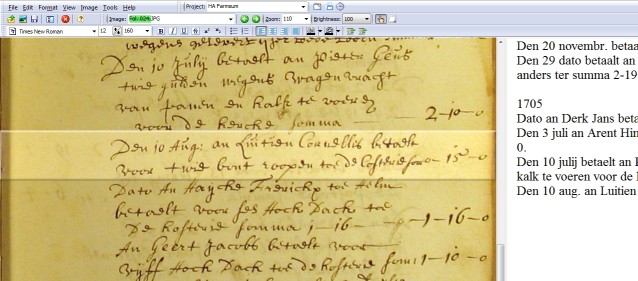 Note: My betas only contain the Transcript program itself not the help and languages files etc. Meaning you shouldn't uninstall the stable release but copy the Transcript.exe from the beta to the folder where you have Transcript installed.
In case you haven't installed yet please install the stable release first and then copy the beta over it.
I can only fix things when I know there is a problem so please send bug reports and crashes to me (either by e-mail or on this forum).
Changes in build 83
Released 2012-01-17.
Refactored loading of text files making it easier to maintain and change
Fixed several bugs found during and after the refactoring especially when the advanced setting "Use the same name for each image and its corresponding text file" was set. Also improved the working of this setting and made the settings saved separately for each project.
Bugfix: exporting a text file not asking to overwrite when not explicitly specifying an extension!
Bugfix: exporting a text file and setting an extension that's not the normal extension for that file type didn't work: the file was saved as rtf.
Feature added: image highlighter to make it easier to find back what part of the image you are working on transcribing. Highlighter can currently be moved and resized in height, changing zoom and brightness are planned for a future beta as are saving the settings on a project by project basis.
Several new translatable strings added for better detailed messages.
Download beta:
http://www.jacobboerema.nl/Downloads/TranscriptBeta.zip