Another beta with some fixes and the image highlighter is now feature complete.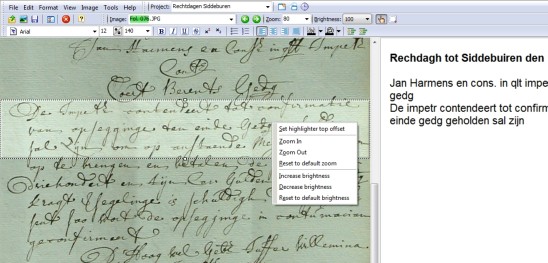 Transcript can now also be followed on
Facebook
, making it easier to stay up to date. Please like and spread the word if you want

I have a little time to do some bug fixes and
small (!)
improvements so please tell me if you know any bugs or anything else that could be improved. After that I plan to release a new stable release 2.4.
Note: My betas only contain the Transcript program itself not the help and languages files etc. Meaning you shouldn't uninstall the stable release but copy the Transcript.exe from the beta to the folder where you have Transcript installed.
In case you haven't installed yet please install the stable release first and then copy the beta over it.
I can only fix things when I know there is a problem so please send bug reports and crashes to me (either by e-mail or on this forum).
Changes in build 86
Released 2012-03-13.
Quick Bugfix to remove warning that Transcript can't find the language file when you are using the default (English) language.
Changes in build 85
Released 2012-03-12.
Bugfix: turning highlighter on/off didn't update until you restarted Transcript.
Bugfix: clicking and dragging the layer when it was not selected didn't work until you released the left mouse button first.
Bugfix: image highlighter moving/position should now always be correct.
Bugfix: bug introduced in previous beta not always going to the right position after loading a picture.
Fixed wrong links in About box.
Checks if language file exists, if not gives a warning.
New features: highlighter zoom and brightness setting added (Ctrl+Scrollwheel zooms in/out, Ctrl+Shift+Scrollwheel in/decreases brightness)
Highlighter menu added and update translations; it also adds option to set the current highlighter position as the default position when loading a new image.
Set image highlighter and side by side Windows to Pro users only.
Download beta:
http://www.jacobboerema.nl/Downloads/TranscriptBeta.zip